Five Amigos were introduced to this blog in February of this year, and already, the letter opener and the credit card have walked into a bar hopefully to the chuckles of many readers.  With today's joke, that leaves just the computer mouse and yellow school bus to make their way to a local tavern.
This Urinal Walks Into a Bar and orders his favorite drink.  The owner of the bar, a good friend, walks up to say hi and immediately notices a difference in her pal.  "Heat getting to you today my friend," the concerned lady says.  "No", the urinal replies quizzically, "why do you ask?"  "Well just noticed you looked a little more flushed than usual."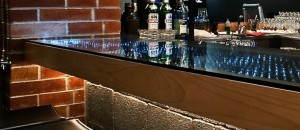 Get some Glass on the Bar…check out how to vote for this joke!